Secure Email
Did You Know...
You are responsible for protecting the email that you send. We recommend you use the TLS encryption already built into your mail system, but you must check the recipient's email too. Ignoring security invites fines, civil and criminal legal action, and unwanted publicity.
What Is CheckTLS?
casual email tests for anyone with email (free for non-commercial use)
complete email test tools for email technicians (subscription info: here)
EmailSentry™, an Outlook Add-in that checks every recipient on every email every time
Check every email you send automatically from Outlook.
EmailSentry™ checks every recipient, every email, every time. It is an inexpensive, easy, and approved answer to HIPAA, GDPR, CCPA, PCI, and other email security compliance requirements. For many companies, it may be all you need. Brochure More Info Free Trial
Check Your, or Any, Email System
Most email systems can encrypt email in compliance with US NIST, HIPAA, HITECH, GDPR, CCPA, PCI DSS, SOX, GLBA, SB1386, SEC 17a-4, NASD3010, FRCP, FINRA, etc. Test yours below.
Check How You Get Email (Receiver Test) FREE
we do not keep or use your address
, see our
privacy policy
Check How You Send Email (Sender Test) FREE
How you send email is more important than how you get email. When you send data via email, you are responsible for securing it until it gets delivered to the other side. If you email protected information, such as information subject to HIPAA, GDPR, or PCI, you must make sure the email is encrypted.
Click to send us a message to test. We will email you back the test results.
If the button does not work for you, or for more information about the this test, use the menu choice //email/testFrom: or see the documentation at TestSender.
How Did You Do?
If either test shows any problems with your email, this site can help you find and fix them. See How To Use CheckTLS below to get started.
If the two tests above, //email/testTo: ("TestReceiver") and //email/testFrom: ("TestSender"), show that your email can do the necessary encryption, then you have everything you need to meet your email transport security requirements and legal liabilities.
Secure Email Compliance Is Easy
The tests show that your email can do proper email encryption. For compliance, you just have to make sure your email does that encryption on every email.
As long as encryption works on your sending end, and encryption works on the other person's receiving end, then Opportunistic TLS will encrypt and your email is compliant. The test above shows that your end works, and you know to re-test it regularly and especially after you make a change to it.
That leaves the other person's end. How can you be sure that their end is "encryption ready" every time you send to it? Do that by testing the other person's end regularly (e.g. daily), or, better yet, on every email with the CheckTLS Outlook Add-in.
See Secure Email Compliance for more information. You don't need to buy any hardware or pay for an online service: your email already has everything you need! And if you already have hardware or an online service, CheckTLS is an easy way to regularly check that it's working, and help you enforce your SLAs.
Secure Email Compliance In Outlook
Check that every copy of every email you send will be encrypted. Simply and automatically.
Meet your HIPAA, GDPR, PCI-DSS, or other email transport requirements using only Outlook. No extra steps, equipment, or changes to your network.
The CheckTLS Outlook Add-in makes the power of the CheckTLS website available to everyone. No technical knowledge required.
How CheckTLS Helps
This site is about:
getting your email system up to par (passing the two tests)
keeping it up to par (testing it regularly)
making sure "other guys" don't break you (testing their end)
CheckTLS: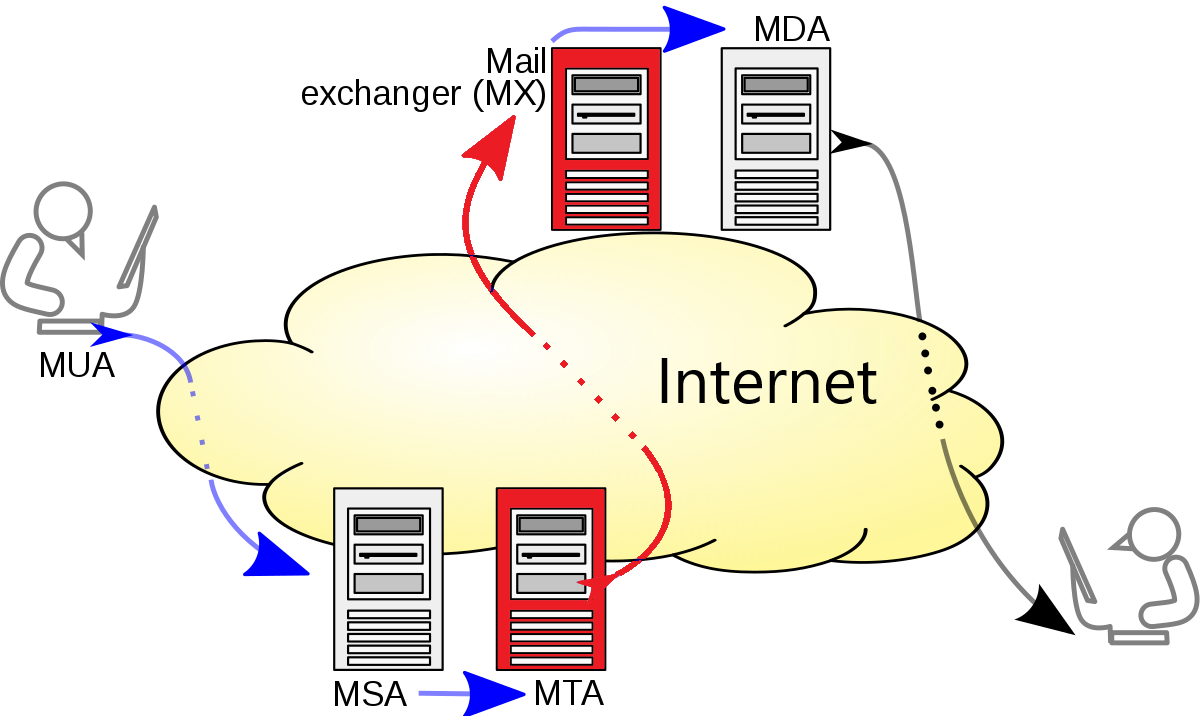 The Red Arrow
Email has three parts: your end, their end, and the Internet in the middle. You control your end, they control their end, but that middle part is "uncontrolled".
CheckTLS is about the red parts of the picture. We help you secure and test the parts of your email system that touch the Internet. Many places ignore these areas because it's too hard or they don't know how to get started.
And no matter how sophisticated your Internet touching systems are, they should be verified and regularly tested.
The government (NIST) just just released Special Publication 800-177 (Revision 1) entitled Trustworthy Email (nice overview at Nextgov) that shows how CheckTLS can help.
No matter your security level, this site will help.
Verified TLS℠
Verified TLS℠ makes sure your email uses and continues to use encryption. Verified TLS℠ makes your existing email security compliant.
Required or Not, Secure Email is Important
Even if your organization is not required to comply with one of the listed rules and regulations, you certainly communicate information you do not want just anyone to see. Use Verified TLS℠ to make sure your email is protected.
Yes, There is More
And, back to the Red Arrow. We realize that your part, your green arrow above, has data encryption at rest, data retention, data protection, data destruction, and other ramifications.
We are just about the Red Arrow, but we it better than anyone else. CheckTLS is the only site that can:
test TLS v1.3 email: we use it in and out and we can test it in and out
test IPv6 email: we use it in and we can test it in and out
test live SPF, DKIM, DMARC
test and limit to specific TLS versions, cipher suites, etc. (sender and receiver)
test Mandatory TLS
call our tests in your code CheckTLS API
re-brand and run our tests on your website Embed CheckTLS
do fail-safe email monitoring Email Monitoring
save tests and run them on a schedule Batch Testing
Best of all, most of these tests are completely free for non-commercial use!
TLS 1.3
CheckTLS email works with TLS 1.3, as do most of our tests.
Test TLS 1.3 on our email to see how it works. Compare the results with tests on your site.
The IETF released TLS 1.3 in August, 2018. This new release is a big deal (see this overview at Kinsta).
Transport Layer Security (TLS) is the most important piece of email transport security, so this new version is very important to us and to our clients. We cover email broadly and deeply, so this new version affects much of our tests and tools. We are continuing to add TLS 1.3 probes, discovery, and reporting to our site. We welcome feedback, suggestions, and reports for what parts of our site could benefit from adding or enhancing TLS 1.3 support. Contact Us
How To Use CheckTLS
CheckTLS tests email systems:
superficial to thorough
one time to continuous
minimal to complete
overview to precise detail
Our site is free for non-commercial use. Commercial users have access to more features, faster results, stored tests, and automatic testing.
We Suggest You Approach CheckTLS in This Order:
OutSource Email Support to Us
We create a custom CheckTLS site that implements your security requirements. Your trading partners then work with us to meet your requirements.
We show them why their email does not meet your requirements, and we let them see the changes they make on their systems in real-time. All without bothering you.
Once they meet your requirements on the custom site, they and you know their email will work with your email and meet your email requirements.
Once you approve a trading partner, we will monitor that they stay compliant with your requirements. And we send error alerts to both them and you, so they and you know about problems sooner.
As your email security requirements change in the future, you can use the monitoring database on our system to do "what if" analysis over your list of trading partners. By adding the new security requirements to your custom site on CheckTLS before you implement them in production, you can give the trading partners the time and tools they need to meet your new requirements. And you can send specific instructions to the ones that need to take action based on your "what if" analysis.
Contact Us for more information about a custom CheckTLS site (e.g. www.OurBank.CheckTLS.com).
CheckTLS Offers
Commercial Services are a very low cost solution for HIPAA/GDPR compliance or other security mandates. No devices, no on-line services — just add verification and audit to your existing email systems!
Email Tools are quick and easy tools to test email and email security, specifically TLS encryption.
Cloud Tools are network "wire" tools that we have invented to work "in the cloud". Capture packets or analyze protocols out on the Internet.
Web Service API lets you use CheckTLS in your own data processing.
Embed API lets you put CheckTLS on your own intranet or public web site.
Much of our site is free for casual, non-commercial use.
Commercial Services
References
We are part of the security policies and operations of some very large and prestigious financial institutions, health care systems, insurance companies, and law firms. Why? Two reasons: our tests work and we save them money!
Secure Your Company Email
You can use CheckTLS instead of expensive email appliances or on-line email services to meet internal security requirements, contractual security requirements, and government security requirements. One less moving part in your email chain and one less expense. Our tests are a very inexpensive answer to PHI (HIPAA/HITEST), GDPR, PCI-DSS, PII, US NIST requirements.
If you already have extra in-line or on-line email security, CheckTLS can verify they're working and monitor them to be sure they keep working. A few extra bucks a month to make sure all that sophisticated stuff is working.
Protect Your Company from Your Business Partners
Use CheckTLS to make sure your trading partners are secure enough to do business with you. As part of your new vendor and new customer process, verify that their email scores a Confidence Factor℠ of 90 or above on our //email/testTo: ("TestReceiver") test.
Broadly Applicable
Whether you are a small shop that needs something simple and low cost, a medium business that needs to beef up security to meet increasing scrutiny by your trading partners, or an enterprise organization that wants some oversight of many security facets, CheckTLS can solve many of your security challenges faster, easier, and at significantly less cost.
Noiseless
Our tests are non-invasive, non-intrusive, and non-obtrusive. They require no changes to your or any other system. They cause no extra processing and should not trip any security alarms.
Reliable
Our tests are simple, open, and proven. For six years we have been doing over a million tests a year. We research all questionable results, and we welcome feedback and suggestions. You can turn up the detail and audit everything we do.
Business Benefits
Email security at low cost, easy install, no risk
Safeguard "Protected" information: PHI, PCI, PII, etc.
Comply with HIPAA/HITECH, GDPR, PCI-DSS, NIST
Monitor your email from the Internet
Add regular, independent verification to your Security Policy
No changes to your email: no devices or routing
Good first step into email security
Good next step no matter how advanced your security devices and services
Demonstrates effort and consideration of security
We can help with your security designs and documentation
Business Users Have Priority
Run tests faster and at a higher priority
Program multiple tests, save them, and run them on a schedule
Monitor CheckTLS and your email (fail-safe monitoring)
Add custom test and/or monitor icons on your desktop or your phone
Use the CheckTLS API to automate testing and interface with your IT
Receive unlimited support
Meet requirements for Protected Information (PHI, PCI, PII, NIST, etc.)
Assistance and sample language for HIPAA/GDPR and other compliance
Sleep better knowing someone else is watching over your email.
Email and Cloud Tools