EmailSentry™ Installation Instructions
Exit Outlook.
Download setup.exe from the Installation LINK provided by your IT department
If you are using Microsoft Edge browser:

click the See More (if there) then the three dots, then click Keep.
If it says "This app might harm your device",

click "show more" above the Delete button, then click "Keep anyway".


If you are using Chrome browser:

If you are asked "What do you want to do with setup.exe from CheckTLS.com?", choose Run
If setup.exe automatically downloads, when it finishes, click once on it at the bottom of your screen

If you get this popup, be sure the Publisher is SecurEmail LLC and click the Run anway button.

(click to enlarge)
Agree to any other terms or "Are you sure" questions
Configuration Instructions
The .msi file provided by your IT department should have configured EmailSentry for you. If it does not, when you try to send an email from Outlook you will get this popup: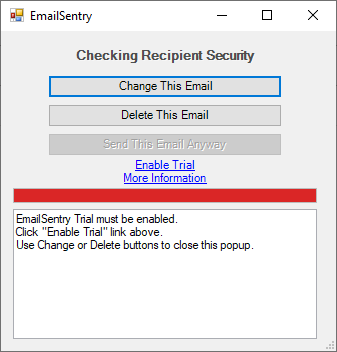 If your IT department provided you with "Configuration Instructions" for EmailSentry, follow those. If they did not, you can manually configure EmailSentry, but you will need to get your EmailSentry "Company CODE" and "Company PASSWORD" from your IT department.
To manually configure EmailSentry:
Start Outlook
Send an email:

To: CompanyCODE@CsOA.CheckTLS.com
Subject: CompanyPASSWORD
Body: configure


(click to enlarge)
When you click Send, this email will trigger EmailSentry to configure itself for you.

Troubleshooting
Troubleshooting information is available here.